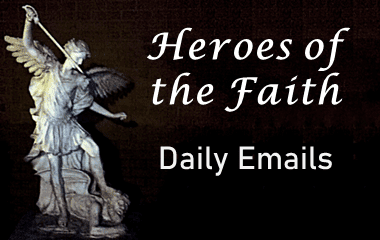 We are delighted to announce that we offer daily subscription ministry called Heroes of the Faith.
This ministry will provide a curated selection of saints from the Daily Prayers with the Saints and quotes by saints who are heroic examples of how we are called to live in today's crazy and scary world.
Sign up today at elists.gogoodnews.net/dada/mail.cgi/list/saints.
God bless you! It's been a pleasure to serve you.
Blessings of Peace and Grace,
Terry Modica
Co-Founder, CEO of Good News Ministries
Author | Speaker | Podcaster | YouTube
"Remember this: Whoever sows sparingly will also reap sparingly, and whoever sows generously will also reap generously… God loves a cheerful giver. And God is able to make all grace abound to you, so that in all things at all times, having all that you need, you will abound in every good work" (2 Cor 9:6-9).
Please help me build the faith of others.
https://gnm.org/donate/