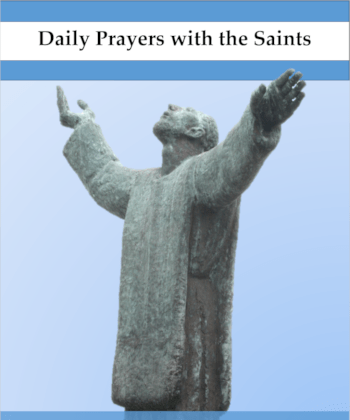 Experience the friendship and spiritual guidance of hundreds of saints, one for each day of the year. Subscribe to DAILY PRAYERS WITH THE SAINTS to receive by email a Saint and a prayer for each day of the year! These posts are delivered on the Saint's feast day. The prayers are written with the Saint's special patronage in mind.
See a sample, below.
If you desire to grow in holiness, the prayers given here will point you in the right direction, and the saints will lead you by the hand and never let go!
Excerpted from Terry Modica's book
Daily Prayers with the Saints
gnm.org/terry-modica-author/daily-prayers-with-the-saints/
Forward from the book
Fr. John H. Hampsch, C.M.F.
Director, Claretian Teaching Ministry
1999
An overweight man, struggling to mount his horse, prayed, "All you saints of Heaven, help me!"  He then leaped up on the horse, propelling himself over the saddle and tumbling off on the opposite side.  "All right," he said, "only half of you help me this time!"
Saints can be powerful intercessors.  In fact, even before being "beatified"—i.e., deemed worthy of the title "Blessed"—it's required that their God-sourced power be proven by a rigorously authenticated major miracle attributed to them after their death.  And that power must be further proven by a subsequent authenticated miracle to entitle them to the appellation of "Saint."  These Church-recognized special friends of God, we are reminded by Vatican II, are to be venerated, imitated and invoked.
In the strictest theological sense, Catholics don't pray "to" any angel or saint (even the Virgin Mary), but we do ask them to pray with us and for us (as in the Hail Mary: "pray for us sinners…").  Invoking the intercession of saints is made delightful and easy by the calendared structure of this book.  Each prayer can easily be tailored to the reader's life situations by inserting particular needs and specific people into the wording.
May we all experience the loving exercise of the saints' power, which they delight in exercising in our lives.  Even when mounting a horse!